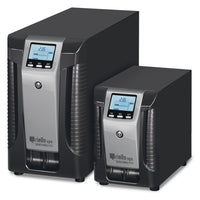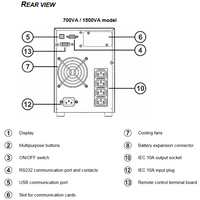 Riello- Sentinel Pro SEP 700 A3-700VA/630W 208VA/240VA Online Double Conversion Tower UPS
Sentinel Pro has a unique, modern design and improved performance created by the Riello UPS research and development team. Sentinel Pro uses ON LINE double conversion technology, resulting in the highest levels of reliability and maximum protection for critical loads such as servers, IT and voice/data applications.
For business continuity applications requiring long battery runtimes, battery autonomy can be extended up to several hours using ER models fitted with more powerful battery chargers.
The front display panel has been entirely redesigned, adding an LCD display that shows the input and output voltages, battery readings and UPS operating status information. 
Sentinel Pro is supplied as standard with a USB port and an expansion slot for protocol conversion or relay contacts boards. With energy savings in mind, Sentinel Pro is also fitted with a shut-off button to reduce energy consumption to zero during prolonged periods of inactivity (ECO LINE). Sentinel Pro is available in 700 VA, 1000 VA, 1500 VA, 2200 VA and 3000 VA models.
INPUT
Rated power [VA]: 700VA
Rated voltage [V]:   220 / 230 / 240
Voltage tolerance [V]:  230 ±20%
Frequency [Hz]:  50/60
Frequency tolerance [Hz]:  50 ±5% / 60 ±5%
Power Factor:  >0.99
Current distortion:  ≤7%
Line Cord Plug: 1 IEC 320 C14

BYPASS
Voltage tolerance [V]:  180 / 264
Frequency tolerance [Hz]:  Frequency selected (from ±1.5 to ±5 configurable)
Number phases:  1

OUTPUT

Rated power [VA]:  700VA
Active power [W]:   600W
Number phases:  1
Crest factor [Ipeak/Irms]:  3:1
Rated Voltage [V] Selectable:  220 / 230 / 240
Waveform:  Sinusoidal
Frequency [Hz]: Selectable: 50 or 60 or self-learning
Voltage distortion with non linear load: <4%
Voltage distortion with linear load:  <2%
Receptacles: (4) IEC 320 C13

OVERLOAD TIMES

125% for 5 sec.,150% for 1 sec.
BATTERIES

Type:  VRLA AGM maintenance-free lead based
Typical recharge time:  2-4 h

ENVIRONMENTAL

Color:  Black
Communications: USB / DB9 with RS232 and contacts / Slot for comm interface 
Safety compliance:  Safety IEC EN 62040-1
EMC conformance:  EMC 2014/30/EU electromagnetic compatibility; EMC IEC EN 62040-2
Accessories provided: Power cable, IEC-IEC cable, USB cable, safety manual, quick start guide
Protections: Overcurrent - short circuit - overvoltage - undervoltage - temperature - excessive low battery
Surge capability [joule]:  300
LINE-INTERACTIVE/SMART ACTIVE efficiency:  98%
Noise Level:  <40 at 3.3 ft / 1 m
Operating temperature: 0 °C - +40 °C
Relative humidity:  5-95% non-condensing
OTHER

Net Weight [lbs/kg]:  24 / 10.9
Gross weight [lbs/kg]:  27.5 / 12.5
Dimensions (WxDxH) [inches]:  6.2 x 16.7 x 9.25
 WARRANTY

2 Year Warranty