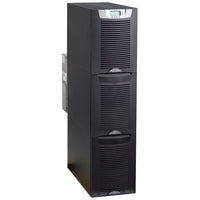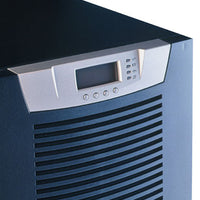 Eaton 9355 10kVA 9kW 480/208V 32-Battery w/Isolation Transformer 3-Phase UPS
Eaton 9355 10kVA 9kW 220/220V 64-Battery 3-High 3-Phase Tower UPS
The Eaton 9355 UPS provides premium double-conversion backup power and scalable battery runtimes for IT and electrical engineering infrastructure in corporate, healthcare, banking and industrial applications. Packing maximum battery runtime into a very small footprint, the 9355 UPS is a complete three-phase power protection solution. The 9355 can be equipped with an integrated, customizable power distribution module that includes a maintenance bypass switch.
Power
Ratings (kVA/Watts)
10 kVA/9 kW and 15 kVA/13.5 kW at 0.9 power factor
Topology
Double conversion
Electrical Input
Nominal input voltage 
208V/120V or 220V/127V three-phase 400V models also available
Input voltage range 
-15%, +10% from nominal at 100% load without depleting battery
Operating frequency 
50/60 Hz (45 to 65 Hz)
Input power factor 
>0.99 typical, >0.96 frequency converter
Input current distortion 
5% THD
Electrical Output
Nominal output voltage  
208/120, 220/127 Vac
Output voltage regulation
±1% static; ±5% dynamic at 100% resistive load change, <1 ms response time
Efficiency
91%, typical
Heat dissipation (BTU/hr)
10 kVA models:
3,798 @ 208V and 220V input
6,294 @ 480V and 600V (with input isolation transformer)
15 kVA models:
5,122 @ 208V and 220V input
8,134 @ 480V and 600V (with input isolation transformer)
Battery
Battery type
9 Ah, sealed, lead-acid, maintenance-free
Battery runtime
See battery backup time chart
Battery management
ABM technology
Battery replacement
Field-replaceable
Charger
Default is 3.4A per battery string. Charger current is configurable from 0.5A to 25A per string with an overall maximum of 34A (limited by input current)
Start-on-battery
Allows start of UPS without utility input
General
Diagnostics
Full system self-test at startup
UPS bypass
Automatic on overload or UPS failure
Parallel for redundancy
Yes, using Powerware Hot Sync technology and capacity
Dimensions and weights
See model selection table
Overload (normal operation)
150% for 5 sec / 125% for 1 min (online),
110% for 10 min
Communications
LCD display
Graphical LCD with blue backlight
LEDs 
(4) LEDs for notice and alarm
Audible alarms
Yes
Communication ports
(1) RS-232, (1) relay contact, (1) REPO,
(2) environmental input
Communication slots
(2) X-Slot communication bays
Power management software
Bundled Software Suite CD
Environmental
Operating temperature
50–104ºF (10–40ºC), 45ºC with 7.5% derating; Optimal battery performance: 77ºF (25ºC)
Storage temperature
32–77ºF (0–25ºC); Recommended battery storage: 59–77ºF (15–25ºC)
Relative humidity
0–95%, non-condensing
Audible noise
<56 dBA at 1 meter (noiseless room) typical
Altitude
9,843 ft. (3000m) without derating
Certifications
Safety certifications
UL1778 5th Edition, CSA C22.2 No. 107.3-14
EMC compliance
47 CFR Part 15/ICES-003 Class A
Quality
ISO 9001:2015, ISO 14001:2004
Surge
ANSI C62.41 Category B3, IEC 61000-4-5
Markings
cULus
1. Due to continuous product improvements, program specifications are subject to change without notice.
Model Selection Table
Power
Rating (kVA/kW)

1

Description
Input/Output
Voltage
Part Number

2

Base Runtime
Dimensions
(HxWxD, in.)
Weight
(lb.)

3

10 / 9
2-high w/32 battery
208/208
KA1011100000010
8
32.2 x 12.0 x 33.5
373.0
10 / 9 
3-high w/64 battery
208/208
KA1012100000010
22
47.8 x 12.0 x 33.5
609.0
10 / 9
2-high w/32 battery
220/220

4

KA1011200000010
8
32.2 x 12.0 x 33.5
373.0
10 / 9
3-high w/64 battery
220/220

4

KA1012200000010
22
47.8 x 12.0 x 33.5
609.0
10 / 9
3-high w/32 battery and input isolation transformer
480/208
KA1013400000010
8
47.8 x 12.0 x 33.5
577.0
10 / 9
3-high w/32 battery and input isolation transformer
600/208
KA1013600000010
8
47.8 x 12.0 x 33.5
577.0
15 / 13.5
2-high w/32 battery
208/208
KA1511100000010
4
32.2 x 12.0 x 33.5
373.0
15 / 13.5
3-high w/64 battery
208/208
KA1512100000010
13
47.8 x 12.0 x 33.5
609.0
15 / 13.5
2-high w/32 battery
220/220

4

KA1511200000010
4
32.2 x 12.0 x 33.5
373.0
15 / 13.5
3-high w/64 battery
220/220

4

 
KA1512200000010
13
47.8 x 12.0 x 33.5
609.0
15 / 13.5
3-high w/32 battery and input isolation transformer
480/208
KA1513400000010
4
47.8 x 12.0 x 33.5
577.0
15 / 13.5
3-high w/32 battery and input isolation transformer
600/208
KA1513600000010
4
47.8 x 12.0 x 33.5
577.0