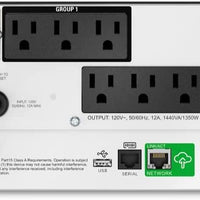 APC Smart-UPS Lithium-ion 1500VA 120V Short Depth UPS with Smart Connect and Network Card (SMTL1500RM3UCNC)
This APC Smart-UPS is designed for IT professionals or network administrators to maintain business uptime and continuity. The APC 1500VA line interactive 3U short depth rackmount UPS provides pure sine wave power to support critical electronics during power disruptions. It comes with NEMA 5-15P input and 6x NEMA 5-15R outlets. This APC Smart-UPS offers cloud-based remote power monitoring, UPS firmware upgrades, remote diagnostics and proactive email notifications with recommended actions.
The APC Smart-UPS has a SmartSlot for optional Network Management Card that enables graceful shutdown of physical servers, virtual machines & HCI Clusters via PowerChute Network Shutdown. The APC Smart-UPS can connect to EcoStruxure IT or third-party centralized management platforms. It provides surge protection against lightning strikes, power sags, brownouts and surges. The SMTL UPS has a 5-year warranty on the UPS and Lithium-ion battery.
Highlights:
Experience higher efficiency with lower energy cost

Up to 3.03 minute runtime on full load to preserve critical data from power shortage interruptions

Overload protection feature usually operates on an inverse time curve where the stable time becomes less as the current increases

3 Hour typical battery recharge time to allow uninterrupted usage without requiring power outlet

Lithium Ion (Li-Ion) battery chemistry for your convenience and better usability

NEMA 5-15P plug/connector type for a secure, feasible operation

NEMA 5-15R receptacle type provides secure, reliable connection with added productivity
SPECIFICATIONS
MODEL NUMBER
SMTL1500RM3UCNC
Power rating
1440VA (1350W)
Voltage nominal
120VAC
Frequency range

Voltage
Waveform
Sine wave
Transfer time (typical)
6ms
Recharge Time
2 Hrs
Efficiency
75...154 V adjustable
82...144 V
Battery type
Lithium- ion

Dimensions                 (W x D x H)
17.24 x 5.16 x 11.89 in

Weight
51 lbs

Input connection
Output connection

Operating temperature
Audible noise
< 45 dBA
Altitude


0…25000 ft                    (0.00…7620.00 m)

Warranty

5 year warranty or replace


Other


Alarm when on battery : distinctive low battery alarm : configurable delays