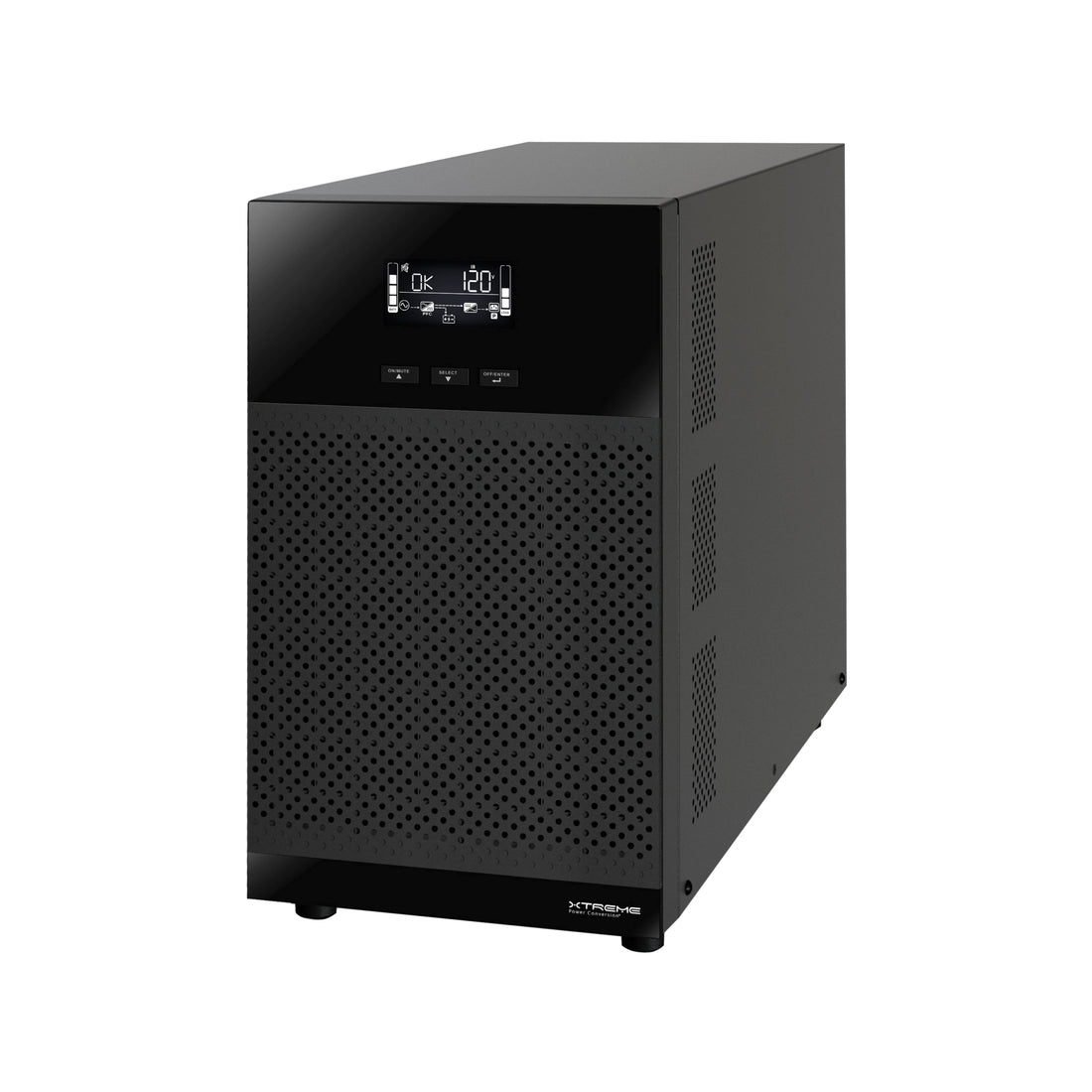 Xtreme Power Conversion T91-700 700VA/700W 120V Online Tower UPS
Xtreme Power Conversion T91-700 700VA/700W 120V Online Tower UPS 3yr Warranty
T91 UPS provides double conversion online power for light industrial applications, point of sale, servers, voice & data networks, and laboratories. T91 features unity output power factor to support up to 43% more critical loads than typical UPSs.
Extended battery runtimes are available from the T91 by adding up to seven matching battery packs.
T91 battery charger can be programmed to provide up to 8 amps of recharge current to insure batteries are recharged quickly and prepared for the next utility outage.
Product Snapshot
Available 120V models: 700VA, 1000VA, 1500VA, 2000VA, 3000VA
Available 208/230V model: 2000VA
Extended battery packs available
Controlled load segments
UL, cUL, CE, RoHS, FCC B, FCC A
3 years electronics, 3 years battery warranty (USA and Canada)
MODEL NUMBER
T91-700
T91-1000
T91-1500
T91-2000
T91-3000
T91i-2000
INPUT
Capacity
700VA (700W)
1000VA (1000W)
1500VA (1450W)
2000VA (1930W)
3000VA (2880W)
2000VA (2000W)
Voltage range
55–150VAC*
110–300VAC*
Frequency
50/60Hz auto sensing
OUTPUT
Voltage
120VAC nominal (100/110/115/127VAC selectable)***
208/220/230/240VAC***
Waveform
Sine wave, zero transfer time
Frequency
50/60Hz auto sensing ≤ 1%
Efficiency
Up to 98% ECO Mode and 92% online mode
Overload capacity
125% for 1 min, 150% for 10 sec
BATTERY
Battery type
(2) 12V9AH
(3) 12V9AH
(3) 12V9AH
(6) 12V9AH
(6) 12V9AH
 (6) 12V9AH
Recharge
3 hours to 95% for internal battery with 2A charge current
PHYSICAL
UPS dimensions (W x D x H)
5.6 x 15.6 x 8.6 in
7.4 x 16.5 x 12.5 in
UPS weight
25.7 lbs
30 lbs
34.3 lbs
63 lbs
66 lbs
62 lbs
Line cord
6ft, 5-15P
6ft, C19 to L5-20P
6ft, L5-30P
6 ft, C19 to L6-20P
Receptacles
(6)  5–15R*
(1) L5-20R + (8) 5-20
(1) L5-30R + (8) 5-20R
(1) C19 + (8) C13
OPTIONAL BATTERY PACKS
Model number
N/A
T91-BP36A
T91-BP72A
BP dimensions (W x D x H)
N/A
 5.6 x 15.6 x 8.6 in
7.4 x 16.5 x 12.5 in
BP weight
N/A
44 lbs
82 lbs 
ENVIRONMENT
Temperature
32–104°F (0–40°C)
Audible noise
< 50 dB with fan speed control
Altitude
11,500 ft above sea level
APPROVALS
UL1778 (cTUVus), FCC B, RoHS
UL1778 (cTUVus), FCC A, RoHS
CE, RoHS
WARRANTY
3 years electronics, 3 years battery warranty (USA and Canada)
COMMUNICATIONS INTERFACE
RS-232, USB, EPO, intelligent slot for optional cards (Web/SNMP, Relay/dry contact, Modbus)
INCLUDED IN BOX
ViewPower monitoring software CD, USB cable, user manual
AVAILABLE OPTIONS
Extended warranty, bypass distribution (XBDM), power distribution (XPDU)